Metallic Bow Roll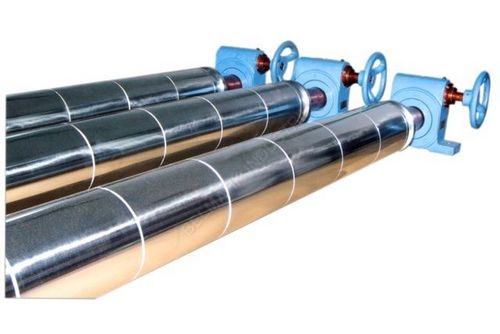 Metallic Bow Roll
Price And Quantity
Piece/Pieces

38000.00 - 42000.00 INR
Product Specifications
Customized Inch (in)

MS, Hard Chrome Plated
Product Description
Metallic Bow Roll
The wide array of Metallic Bow Roll / Metallic Segmented Bow manufactured by us is a key component for making wrinkle free paper as well as to keep clothing in excellent working condition on Paper Machines. We take pride in introducing ourselves as a commendable manufacturer, engaged in meeting the exact & ever rising needs of our valued customers. We fabricate our Segment Metallic Bow Roll/ Metallic Segmented Bow using premium quality raw materials and offer it in various coatings. As a reliable exporter of the domain, we comply with the international standards & norms as well industry set guidelines. Over the years, our company has emerged as a reputed supplier offering world class Metallic Bow Roll and Segment Metallic Bow Roll that are:

Accurate in dimensions
Used in high speed paper making machines
Resistant to wear
Available in various coatings
Have longer servicing life
Metallic Bow Roll is the most common wrinkle removing roller used worldwide. Belmark is a pioneering company that manufactures and supplies bow rollers. This is also referred to as Spreader roll, Scroll Roll, Wrinkle Removing Roll, Expander Rollers, Banana Roll, Slat Expander roll, etc.

These rolls are supplied with mounting brackets, which could be either wall mounting or foot mounting. The bow expander rolls comprises abrasion resistant sleeve, metal segments, bowed shafts, and sealed ball bearings. The bowed roller is mainly used as wrinkle removing device in several industries. Customers can avail this roller in several dimensions. It is mainly provided with gear box and mounting brackets which can either be wall mounted or foot mounted. Bow Roll is provided in hard chrome surface, rubber surface, and also PTFE covering for non-sticking applications. Hard chrome surface Bowed Roller is utilized where speed is over 300 meters per minutes. In case the speed is more, the bigger diameter is utilized for reducing the rpm of the roll.

Bow roll operates only when there is appropriate lead-in and lead-out distance as well as kept in appropriate warp angle with web material. The warp angle adjustments can be made with offered bow angle adjusting worm-worm wheel gearbox along with hand wheel and counter pedestal bearing block. Using it, one can simply make adjustments in bow angle at 360 degree warp angle. Once the roll gets maximum wrinkle removing, one can stop making adjustments in bow angle and set the roll on bow locked position. It is recommended to not make any changes in the bow setting bow warp angle with the set web materials. An arrow indicates on shaft position and shows the bowed position of the roll.

For high speed applications, metal expander with hard chrome plated surface can be utilized. PTFE sleeve is utilized for non-sticking applications. Bow rolls can be utilized to remove wrinkles, slack edges, slit separation and spreading. Web tension drives most of the bow expander rolls, without any extra drive. These are mainly used in plastic converting machines, textile processing machines, processing, coating, printing, laminating, winding, batching, re-winding and paper industries.

Bow angle adjusting worm-worm wheel gear box along with hand wheel metal is mainly utilized for before high-speed Paper slitter re-winders for wrinkle removal and after slitting for slits separation. Big diameter and heavy weight rolls with paper tension can not be driven independently. Therefore, an extra pulley is given for driving the metal bowed Roll.

PTFE Expander roll is utilized before size press where wet working condition and extra drive are needed for rotating the roll. PTFE rubber bow roll can be utilized for application where substances sticking on the roll is an issue.


We are one of the major Bow Rubber Expander Roll manufacturing companies in India. The fabricated Bowed Rollers find applications in Industries, including:


Rotogravure Printing & Flexo Printing Industry
Tarpaulins Industry
Textile Industry
Plywood & Laminates Industry
Jute Industry
Paper Industries
HDPE Woven Sacks Industry
Fiber Industry
Carpet Industry
Artificial Leather Cloth / Vinyl
Leather Industry
TyreProcessing Industry
Converting Industries (Printing/Lamination/Coating)
Non-Woven Industry
Aluminum Foil Industry
Glass Industry
Yarn Industry
Steel Industry
Metalising
Polyster Film Industry
Industrial Beling & Conveyor Beling Fabrics Industry